6016 aluminum sheet plate stock for engine cover
introduction
6016 aluminum alloy is American deformed aluminum and aluminum alloy. 6000 series alloy aluminum has become a new type of body material for many automobile manufacturers due to its good plasticity and high strength. For example, European car manufacturers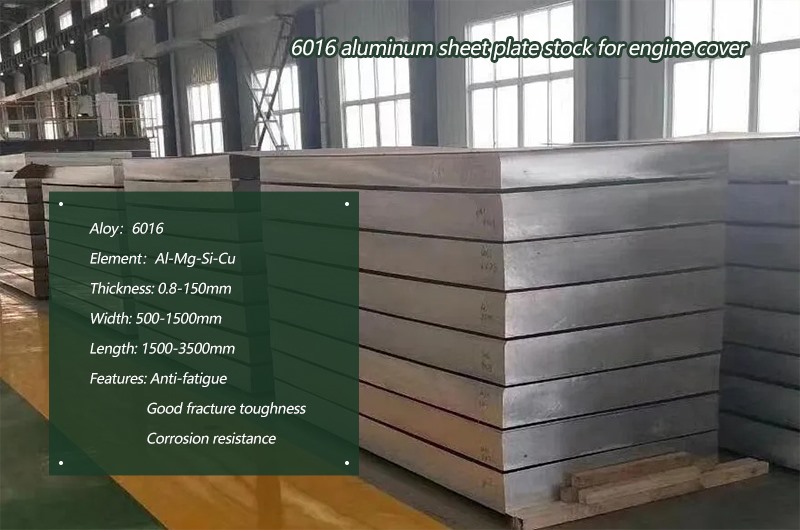 generally use
6016 aluminum sheet plate stock for engine cover
with better formability as the main body sheet;
Commonly used alloys for automotive aluminum plates are 6061 aluminum plate, 6016 aluminum plate, 6060 aluminum plate, 6101 aluminum plate, 6111 aluminum plate, 6082 aluminum plate, etc.
6016 is a new medium-strength Al-Mg-Si-Cu series aluminum alloy with good fracture toughness, corrosion resistance, fatigue resistance and other characteristics, and excellent formability. Its initial application target is the automotive industry, which improves fuel efficiency by reducing component weight. The corrosion resistance of this alloy is better than that of high-strength 7XXX series alloys, and its strength is higher than that of ordinary 6XXX series alloys and maintains excellent corrosion resistance and formability. Wide range of uses, some difficult-to-form parts, such as engine trims, usually use 2024, such as switching to 6013 to solve forming problems and greatly reduce heat treatment costs
6016 aluminum sheet plate stock for engine cover
Product features: good molding performance, obvious paint hardening effect.
6016 aluminum plate stock for engine cover
Product details:
Thickness: 0.8-150mm Width: 500-1500mm Length: 1500-3500mm